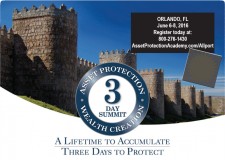 Guests of Fraser Allport, The Total Advisor™, can meet privately with an Attorney trained in Asset Protection. This Summit will teach you cutting-edge strategies for Asset Protection, Income Tax Reduction, Business Entities, Estate Planning, and other topics about protecting and growing your Wealth. You will be able to discuss your situation one-on-one with the experts.
Vero Beach, Florida, May 24, 2016 (Newswire.com) - Guests of Fraser Allport, The Total Advisor™​, are invited to meet with some of the nation's top Attorneys and Trainers at the Asset Protection & Wealth Creation Summit in Orlando, Florida, June 6th through the 8th of 2016. This Executive Summit is designed to teach you advanced strategies for linking Lawsuit Protection and Wealth Creation with the latest Income Tax and Estate Planning laws. This in-depth Summit will assist you in customizing and implementing a legal Asset Protection structure for your personal and business Assets. Come meet with some of the nation's leading experts on Asset Protection, Estate Planning, and Income Tax Reduction. Come Network and protect your Wealth! 
LEARN HOW TO:
Utilize America's latest Asset Protection Tools.
​​Buy Discounted Real Estate from Bankruptcy Court.
Separate Business Assets from your Personal Estate.

​Invest

 in Trust Deeds, Tax Lien Certificates, and

CMOs

.
Run your Business legally for m

aximum

Asset Protection.
Reduce Estate Taxes and create Multi-Generational Wealth.  
Establish Business Credit without using Personal Guarantees. 
Invest in a variety of Asset-Protected Real Estate Investments.​
Discover Safe High Yields for your Money in a volatile Economy.
" Self-Direct " your IRA to invest in your Business and Real Estate.
Protect your Personal Residence from Lawsuits, Liens & Judgments.
Generate Tax-Favored & Tax-Free Income from a Variety of Sources.
Maximize all Income Tax Deductions available to you in the IRS Code.​​​
Incorporate Divorce & Prenuptial Planning into your Asset Protection. 
Start your own Entities, such as Corporations, Partnerships, and 

LLCs

.​
Cut Capital Gains tax to "0" on the Sale of Stocks, Real Estate, or a Business. ​
Bypass Probate Court by properly funding your own Revocable Living Trust.
Minimize risky activities that create liability in today's litigious environment.

​Build

 a national Network of Attorneys, Accountants, Experts and new friends.
​Video: Asset Protection Overview - Why you need Asset Protection​
​PDF: Asset Protection Executive Summit
Media Contact:
Fraser Allport
​​The Total Advisor™   
1880  82nd  Avenue,
Suite 202 
Vero Beach, Florida 32966  
Tel: (772) 925–1601
Email: connect@fraserallport.com
​www.safeandsmartmoney.com
Source: Fraser Allport
Share: